UAE Paramotor Courses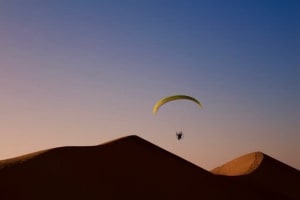 SkySchool operates in the Winter in from the Al Jazirah Aviation Club in Ras al Khaimah, UAE. Nearby there is a very large and open training area on the edge of the desert and close to the sea. If you can't make it to the UAE check out our other locations here. The following outlines the course fees, accommodation, food, travel, transport and insurance information. Discounts are available for groups of two or more. For further information or to make a booking contact us.
Course Fees
6 day Paramotor course - £995
12 day Paramotor course - £1,495
Deposit:
6 day course deposit - £295
12 day course deposit - £395
The course fees include:
All kit, fuel and log books
The course fees do not include:
Food and Accommodation
Travel and Transport
Travel Insurance
To reserve your slot and place a deposit contact us


Accommodation and Food
We recommend students stay at the Jannah Hotel which is less than 15 minuets from the training site. A double bedroom with a kitchen starts at around AED 265 if you book through SkyOps. Breakfast is provided in the hotel and nearby there are plenty of restaurants as well as a supermarket.


Travel, Transport & Insurance

The closest airport is Dubai, which is 1 hour away. We suggest you hire a car and will connect students together on a WhatsApp group a month or so before the course allowing you to discuss the potential of sharing this cost. We require students sitting a course in the UAE to have their own insurance cover. Dogtag provide a discount for SkySchool clients by following this link.

Further Information
Courses start at 09.00 on Monday morning and end on Saturday afternoon. Students should aim to arrive and depart on a Thursday. During the day please bring appropriate footwear (ankle supporting boots are recommended), water, food, suncream and suitable clothing for the time of year, including a jacket and trousers as it can get cold while flying. If you have any further questions or would like to make a booking contact us.


Contact Us
Fill out the form