UK Paramotor Courses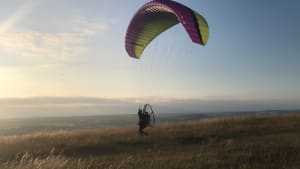 SkySchool operates during the Summer at Shenington Airfield, Oxfordshire. Our UK courses always get booked up very quickly so we suggest you reserve your preferred slot as far in advance as possible. If you can't make it to the UK check out our other locations here. The following outlines the course fees, accommodation, travel and transport information. Discounts are available for groups of two or more. For further information or to make a booking contact us.
Course Fees
1 day taster - £175 (Saturdays Only)
2 day taster - £275 (Weekends Only)
6 day course - £895
12 day course - £1,395
Deposit: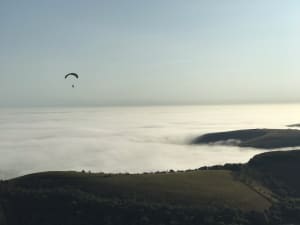 6 day course deposit - £295
12 day course deposit - £395
The course fees include:
All kit, fuel and log books
The course fees do not include:
Accommodation and Food
Travel and Transport
To reserve your slot and place a deposit contact us


Accommodation
Local accommodation options are available on Airbnb and Booking.com. It's also possible to camp or bring a campervan for around £10 a night as there are bathrooms, toilets, electricity and cooking facilities on site.


Further Information
All UK courses start at 09:00 on a Saturday and end in the late afternoon/early evening depending upon the weather. During the day please bring appropriate footwear (ankle supporting boots are recommended), water, food, suncream and suitable outdoor clothing, including a jacket and trousers as it can get cold while flying. The nearest train station is Banbury, which is an affordable 20 minute taxi journey. For further information or to make a booking contact us.

UK Paramotoring Courses FAQ's
Have a question about our UK Paramotoring Courses? The answer should be here in the FAQ section below!
Q. How many flights can I expect to do on a 6 day course in the UK?
The number of flights you can expect to do on a 6 day Paramotor Course in the UK is at least 1 solo flight.
Q. Is Accommodation included in the course fee in the UK?
Accommodation is not included in the course fee in the UK. There is the option of staying in our accommodation, bringing a tent or campervan to Shenington Airfield, which has some basic facilities including electricity, bathrooms and a kitchen. Alternatively, you can stay off site in a wide range B&B's or hotels that can be found on
Airbnb
and
Booking.com
Q. What are the benefits of Training in the UK vs Overseas?
The only benefit of training in the UK is that you do not have to travel as far, especially for those who live locally, as this saves them the cost of Travel and Accommodation. The UK is a great place to learn the basics, meet the SkySchool Team and make the most of the weather when it allows us to fly! However, the UK climate can never be relied upon to provide consistent weather, hence why we run the majority of our training courses overseas.
Q. What happens if the weather is bad in the UK?
All lost Training days stay in credit for up to 2 years to be used at a later date. At the end of the course, the SkySchool Team will confirm how many days you have in credit with us.
Q. What is the nearest Train station to the UK training site?
The nearest train station to the UK training site is Banbury, which is an hour's journey from Marylebone, London. From there, you can take a 15 minute taxi to Shenington Airfield.
Q. What time of the year do the courses run in the UK and why?
We only run the UK Paramotor Courses July and August, this is because the weather will most likely be able to provide better flying conditions during the summer months.
Q. When do the courses start and finish in the UK?
The UK Paramotor Courses start at 09:00 each Saturday and finish on Thursday afternoon/evening. The Taster Courses only run over weekends. Friday is usually the SkySchool Team's day off, however, when it's flyable we may take advantage of it as we love helping get our students flying!
Contact Us
Fill out the form